About Us
Save the Children has been working inside Syria providing assistance to conflict affected communities since 2013, working directly and through partners to deliver life-saving activities across northern Syria. Because of the highly volatile environment in which our staff and partners are operating, we are unable to provide details of the exact locations of our activities.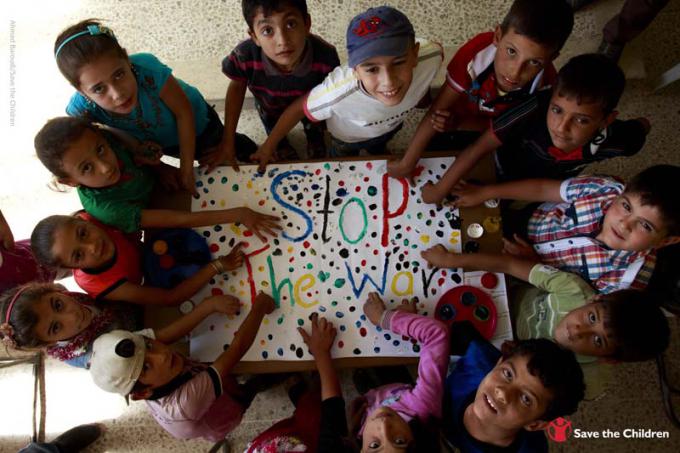 The extreme violence that has characterized the Syrian conflict has created one of the most serious humanitarian and displacement crises in recent history.  The estimated number of people in need of humanitarian assistance has now reached 13.5 million, including 6 million children, with 5.3 million people in need of shelter, 8.7 million people unable to meet their basic food needs and 70% of people lacking access to safe drinking water. After more than four years of conflict three out of four Syrians live in poverty, and Life expectancy has fallen by 20 years since the start of the conflict.
Syria is the largest displacement crisis in the world today. Since 2011, an average of 50 Syrian families have been displaced every hour of every day. Inside Syria, 6.5 million people have been forced from their homes and are now living in bombed out buildings, collective shelters, tented camps and even in caves. In 2015, one million people were newly displaced within their own country.
Children are exceptionally vulnerable in this conflict, and are at risk from a number of child protection concerns such as the worst forms of child labour including recruitment into armed groups, early marriage, detention, torture and the denial of access to basic services. Almost three million Syrian children are now out of school, with one-quarter of schools inside Syria damaged or destroyed. Health facilities and health personnel continue to be attacked, while health needs are growing due to the high rates of violence, poor sanitation facilities, food insecurity and low rates of immunisation amongst children.
Syria is one of the most complex and dangerous operating environments in the world for humanitarian agencies, with active conflict routinely denying aid workers access to those in need. Right now, 4.49 million people struggle to access humanitarian assistance as living in hard to reach areas, 360,000 in besieged areas with no access to humanitarian support.