"I am the man of the house now and they are relying on me."
At 12 years old Omar* suddenly found himself responsible for his family and working to support his mother and younger brother after his father was killed in the conflict.
"My father died about four years ago, he was a construction worker and he was at work when a shell fell a few meters away from him and he died along with his friend. My older brother was very angry about what had happened and he wanted revenge for our father so he joined an armed group and now we don't see him very often as he is always away fighting.
"My younger brother is just four years old and my mother can't work, and even though I was very good at school my family is very poor so I now have to work to support my mother.
"I have tried many jobs; I worked in a garage, I worked for a blacksmith and I worked as a peddler selling cigarettes and many other things, but none of these jobs paid me very well and I was not earning enough to buy food for my family. Then I heard from my friends that working in the fuel market was much more profitable so I started working here about one month ago."
Recently Omar started working in a fuel market in northern Syria where the work is both difficult and dangerous, and yet it is a job that pays enough to meet his family's needs. Every day he goes to the market with his bucket and sponge to collect fuel that has spilled onto the ground from the tankers. Using the sponge he soaks up the fuel, squeezes it into his bucket and sells what he has collected at the end of every day.
Omar said, "We have to be here very early in the morning because the tankers arrive early, so I get here at six in the morning and leave late at night so I that I have time to collect as much fuel as possible. In one day I can collect between ten to fifteen litres of diesel fuel and I sell each litre for fifty (Syrian) pounds, the clean diesel can be sold for a hundred (Syrian) pounds but what we collect is very dirty so they buy it for half the price.
"The work is very tiring of course and it is also dangerous, a fire can start at any time and once it starts it takes hours and every man in the market to extinguish it, many people have died here because of the fire. And it's not only the fire, the diesel burns your skin and makes your body come out in blisters. My hands are always hurting me because they are soaked with fuel all the time, also my chest hurts me when I breathe especially at night before I sleep.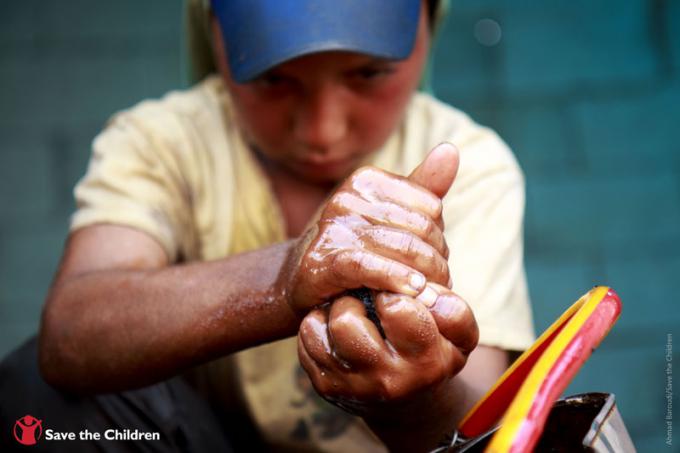 "Sometimes when the market is crowded with kids, working becomes like fighting a war with all the kids are struggling to get to the fuel on the ground.
"It is not an easy job at all but when I go back home and give the money to my mother I feel very good, she gives me some money to buy sandwiches and juice during the day, but I am the man of the house now and they are relying on me.
"I wish I could go to school instead of the fuel market, everything here is black and smelly while in school everything is colourful and kind. I used to love singing and I was very good at poetry but now I have forgotten everything.
"I always wanted to become an architect so I could build houses like my father did, to have a nice car and clean clothes, and of course the best house in the town. I wish I could collect enough money so my mother would need nothing anymore and then I could go to school and become what I want to be."
There are hundreds of children doing the same as Omar every day; Save the Children has helped many to return to school by supporting their families with food baskets, conducting awareness raising campaigns and re-opening schools but because of the deteriorating situation in Syria unfortunately there are still many other children who have no choice but to give up their education and to work in incredibly dangerous environments.
*Name has been changed to protect identity