"My dream is that children will be safe, that they can learn without death chasing them."
In this blog, Save the Children Syria's Education Programme Manager, Muhamad Manaa describes the moment he found out that two children from a school supported by Save the Children had been killed in an airstrike.
'Ghassan sounds sad, his voice is shaking and he cannot speak clearly. I am asking him if his family are safe but he just keeps repeating, "They are all ok, all are ok." It was yesterday afternoon when I got the call to tell me that one of the villages in northern Syria where we support a school had been hit by an airstrike. Since then I have been frantically calling and messaging my team to find out if our staff, teachers and students are all accounted for. Thankfully all our staff are safe, but I am desperate to find out if the children from the school are too.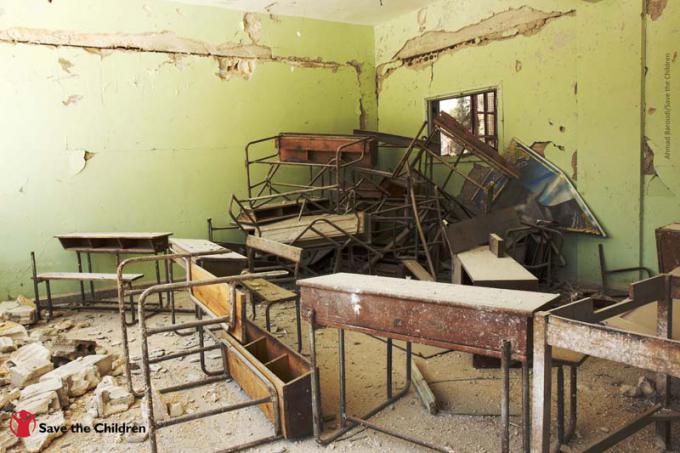 'Ghassan is a teacher at the school we support. On the phone his voice is strained, his responses limited. I know something is wrong. "Ghassan," I say, "What happened yesterday?"
'He tells me, "Yesterday at 4pm our village was hit by four airstrikes. After the first two, the Machines of Death," - referring to the airplanes - "came back to the most crowded area in the village, the market place, and struck again."
'Six people were killed in these airstrikes and 23 were injured. Three of those who died were children, all siblings; Sedra, 10, her brother Saleh, 12, and their younger brother Abdullah, 4 years old. The three children were buried under the rubble of their house and the Civil Defense had to work from 4pm until 7am in the next day to dig out the bodies of Sedra and her brothers. Unfortunately when they found them, they were already dead.
'Sedra and Saleh both attended the school supported by Save the Children in their village. Their family is originally from Aleppo but because of the airstrikes and barrel bombs there they left their home and came to the countryside of Idleb to try and find somewhere safer to live.
'The children's father was arrested almost five years ago and their mother worked hard to be able to feed her three children, this meant that Sedra took on a lot of responsibility for looking after her four year old brother when her mother was working.
'Ghassan says, "Last year Sedra stopped coming to the school and when we went to check on her and see why she was not coming we discovered that she couldn't attend because she had to take care of her brother, Abdullah. We told her that she could bring her brother to school and the teachers would help look after him so that she could continue her education."
"Sedra was loved by all the students, she always offered them support; she was such a caring person, she always decorated the class and always cared about the cleanliness of the classroom. Sedra was great and I always believed she would have a brilliant future but…" Ghassan stops talking, and I can't find the words to comfort him.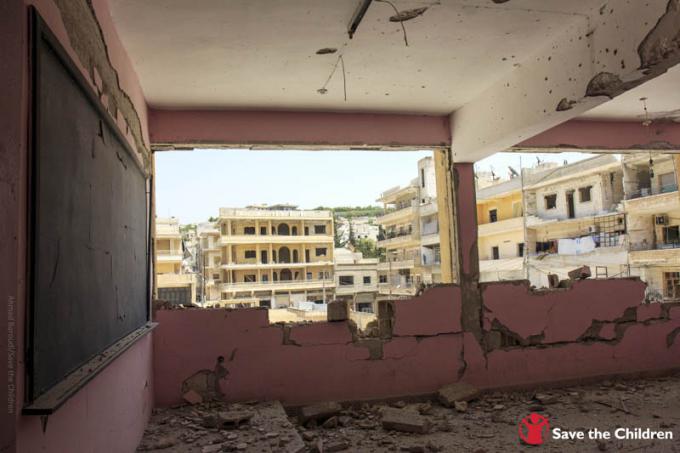 'After a while Ghassan tells me that when Sedra received her certificate a few months ago she told him, "I dream that I will be able to tell my father that I finished the 3rd grade with an excellent degree and I am now in the 4th grade; if he was here he would be so happy. I miss his hugs that he gave me every morning."
"I have a dream as well," Ghassan tells me, "My dream is that the children will be safe, that they can learn and play without death chasing them from place to place. Sedra and her family ran away from death once in Aleppo but then death got them here. There is nowhere that is safe."