"We ran downstairs and "Boom" we heard a big explosion"
Rami*, 9, was forced to flee his home in northern Syria over a year ago because of the intense fighting. Not long after the family left, their home was hit by two missiles that destroyed part of his house and his beloved blue bike.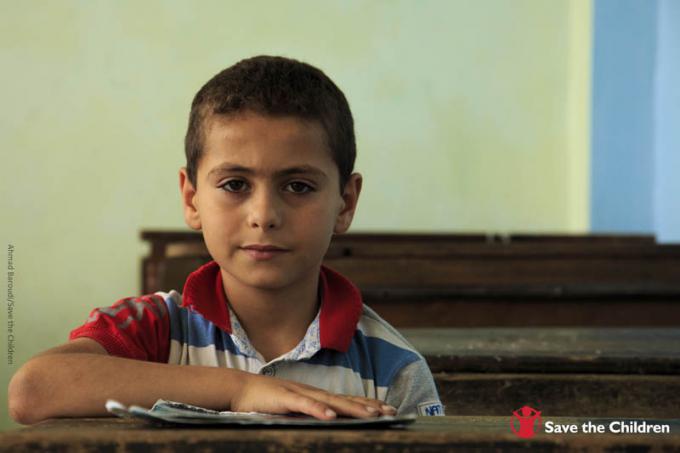 "Our home was very beautiful, we were living on the third floor and we had a very big balcony, in the corner of the balcony my father had made a small waterfall with colourful lights, and I had a blue bike and I used to ride it on this balcony.
"We had to leave our home more than a year ago because of the bombardments, we came to this village and we rented a house. After we got here we found out that two missiles had fallen on our home and both the balcony and the bedroom were destroyed; I feel very sad because the waterfall and my bike are now gone."
Eventually once they had settled in the new village Rami started going to school again but he was only able to attend for a few months when this new school was bombed. After this happened his father said that he was no longer allowed to go back to school because it was too dangerous.
"When we got here we rented a house and I started going to the village school but after maybe four or five months it was bombed.
"I was at home doing my homework right after school had finished for the day when we heard the siren, we ran downstairs and "Boom" we heard a big explosion. I was scared but then we went back to the house and we saw the black smoke coming from the middle of the village where the school is, we were afraid that the airplane would come back so we stayed for a while outside the house under the stairs but it didn't come back.
"A few days later I went with my father to the market and we passed by the school, it was destroyed and burned, I was able to see the blackboards in the classrooms from the street because there were no walls or windows.
"A few weeks later they re-opened the school but my father didn't allow me to go, he said it wasn't safe to go, and he was right because it was bombed twice more after that.
"I don't know why people bomb the schools, they don't want us to learn and become lawyers and doctors, they want us to be nothing so we don't make any money and we won't ever be able to go back home.
"I want to be a lawyer like my father but I have to study very hard to be like him and if they keep bombing schools I won't be able to study and I will remain at home doing nothing and in the end I will become a scavenger!
"I wish I could go back home, I will do anything to get a good job and rebuild our balcony and the waterfall, and then I will buy a motorbike instead of my blue bike because I will be old enough to ride a motorbike when the war ends and we can go back home."
Save the Children and its partners are supporting 53 schools in northern Syria, including rehabilitating damaged classrooms, providing textbooks and teaching equipment, paying teacher incentives and conducting teacher training.
*Name has been changed to protect identity