2.5 MILLION CHILDREN LEFT WITHOUT HELP AS SYRIA AID EFFORT STALLS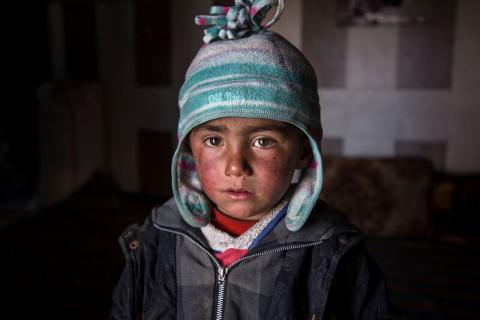 "The snipers never stop" - Hala*, teacher in besieged town of Madaya - new audio content available
 
Escalating violence in Syria is increasingly preventing the delivery of vital aid, leaving around 2.5 million children without help, Save the Children is warning as world leaders meet in Brussels today to discuss ways to address the crisis.
Aid convoys have been able to reach only 9% of the 4.6 million people in besieged and hard-to-reach areas across Syria in the first three months of 2017, more than half of which are children. This means more than 4 million have been left without a single aid convoy so far this year. They are facing increasingly desperate shortages of food and medicine. 
 
Despite repeated commitments to ensure aid is delivered, less aid is now getting through than a year ago. 
 
In February 2016, the International Syria Support Group (ISSG) and parties to the conflict agreed to establish a Humanitarian Task Force to ensure immediate access to civilians in besieged and hard to reach areas. In the following three months, aid convoys reached 17% of those populations – yet one year later even that access has declined by a half. 
 
Convoys continue to be routinely obstructed and denied access, and blocked by renewed violence and bombing. Even when convoys have got through in recent weeks, vital medicine and surgical supplies are reportedly not being allowed on to the trucks 
 
Hala*, a teacher in the besieged town of Madaya, said: 
 
"People still feel scared, they are still not going out. Anyone who goes outside sees snipers and we've lost a lot of young people, even children, even entire families. 
 
There was a girl and a rocket hit her family's house. The whole family was injured and she was killed. She was just 14 years old. The children have been imprisoned in their own houses for the last 4-5 months. The houses are overcrowded with people – two or three families in each house. In this period the whole of Madaya was under heavy bombardment. 
 
All the houses were being hit with shells or mortars and of course bullets – the snipers never stop."
Madaya is one of the besieged 'Four Towns' from which civilians are due to be forcibly evacuated this week. With more than 650,000 people trapped in besieged areas across Syria, Save the Children is extremely concerned that evicting families from their homes against their will to other areas across the country must not be the solution. The international community should ensure an end to sieges and ensure sustained humanitarian access. 
 
Misty Buswell, Save the Children's Middle East Advocacy Director attending the Brussels conference, said: 
 
"The ceasefire announced at the turn of the year is little more than a mirage for children who continue to be bombed and denied aid on a daily basis. Despite grand promises, the situation in many areas across Syria is getting worse and people feel abandoned by the international community. World leaders coming together in Brussels do so in the shadow of yet another alleged chemical attack. Now is not the time for talk about returning refugees into Syria but rather is a moment to make an urgent breakthrough in getting aid to people in desperate need."