ALARMING SPIKE IN NUMBER OF SYRIAN REFUGEE CHILDREN OUT OF SCHOOL, EXPOSING THOUSANDS TO CHILD MARRIAGE AND EXPLOITATION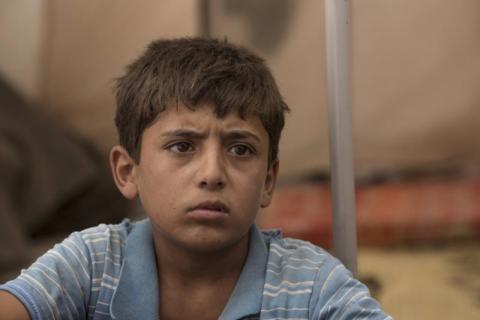 Yacoub*, 12, from Raqqa, Syria, sits inside the tent in which he and his family now live, in a camp for people displaced by the war against ISIS in Syria. 
Refugee children have lost almost 700 million days of school in the last year despite pledges at UNGA to get them back in the classroom
More Syrian refugee children are now out of school in the Middle East than last year, with the most vulnerable and marginalised bearing the brunt of the crisis.
As children across the region go back to school this week, 43 percent of school-aged Syrian refugee children will be missing out. This number -- which has risen by almost one third from late last year when 34 percent were out of school -- means that around 730,000 Syrian refugee children are receiving no education, leaving them more vulnerable to child marriage and labour, Save the Children is warning.
Neighbouring countries, where millions of refugees have been living for years, have made a string of commendable changes to increase access to education for refugee children. But while host governments and donors have made commitments to opening access in schools, this alone has not been enough.
Deep-seated barriers, such as reliance on child labour especially by parents who are restricted from working, fears of harassment for girls on the way to school, and a lack of affordable transport, have hindered efforts and caused children to drop out or struggle to secure access.
"Education would offer these children a future and help to protect them. When children don't go to school, they are more vulnerable to exploitation and abuse," said Helle Thorning-Schmidt, CEO of Save the Children International.
"Schools also provide a safe space to recover from the psychological distress that many who have fled extreme violence have experienced."
Due to enduring barriers in the last 12 months, Syrian refugee children in Lebanon, Jordan and Turkey missed more than 133 million days of school.
Globally, a new report by Save the Children found that almost 700 million days of school have been missed by 3.5 million registered refugee children. More than half of all refugee children globally are out of school.
The huge educational gap has persisted despite sweeping pledges made at the Leaders' Summit on Refugees at the UNGA last September, when donors and key host governments across the world said they would enrol one million refugee children.
Many of these promises were not new and renewed previous pledges, like those made at the Syria Conference in London in February 2016, but the true challenge has come from persisting barriers. Ultimately, many of the 300,000 places in education created for Syrian refugees in the region have not been filled.
"The world came together last year at the UN General Assembly and vowed to do more for refugee children and get every refugee child back to school within a few months of being displaced," said Thorning-Schmidt.
"But action has been too slow. Governments need to tackle the many barriers that remain and which are stopping these children from returning to education and helping to rebuild their countries. The international community must step up this week and deliver on their promise to refugee children."
"If not, millions of refugee children across the world will continue to see their futures evaporate as they spend another year out of education. These children have had their future stolen twice; once when they fled the war and again when they are denied the right to learn."
Children living in conflict zones first lose out on school due to fighting in their home countries. In Syria, almost two million children are still believed to be out of school. Fighting in places like Raqqa, where more than 150,000 children have been displaced in recent months, has made it extremely difficult to rebuild and enrol students.
"What children who have lived through war and experienced extreme violence tell us time and again is that they are desperate to get back to school and start learning again," said Sonia Khush, Save the Children's Syria Director.
"Our experiences in neighbouring countries have shown that if we can get children back into the classroom and give them the support they need to stay in school, we can start to help children recover. But to do this we need to see a much deeper commitment to education and mental health support." 
While enrolment in formal education for Syrian refugees in neighbouring countries has remained broadly steady, there have been serious cutbacks in informal education, a key stepping stone for marginalised communities and children who had been out of school for a several years.
Save the Children and our partners have been doing region-wide drives in recent months to ensure children enrol at the start of this school year. However, for many refugees the challenge of translating commitments into reality could mean yet another year without education.
Notes to editors
JORDAN: In the last 12 months, we estimate 16.6 million school days have been missed by more than 90,000 children. Last year, the Jordanian government pledged to get all out-of-school children into classrooms by September 2016. It created 75,000 places and removed restrictions that prevented children who had missed more than three years of school from returning. Last year, however, less than 25,000 children were enrolled.
LEBANON: In the last 12 months, 49.6 million school days were missed by an estimated 290,000 refugee children who remain out of school. While the Ministry of Education and Higher Education has opened school doors to refugee children, many barriers remain, including lack of sufficient spaces, lack of transport methods, demanding curriculum, language difficulties, overwhelming paperwork, bullying and violence, and lack of valid residency.
TURKEY: In the last 12 months, an estimated 338,000 refugee children who remain out of school missed 66.6 million school days. Following the huge influx of Syrians to Turkey since 2014, the Government worked to ensure that Syrian children had the right to enrol in school. By the end of 2016 almost 500,000 Syrian children were in some form of schooling, a very impressive achievement. At the start of 2017, more Syrian children were in school than out of school. During 2017, the Government of Turkey has begun to adopt long-term policies with a goal of fully integrating all Syrian children into the Turkish public education system. To enable this to happen a huge investment of resources will be required over the long-term. For example, tens of thousands of new school classrooms will need to be built across Turkey. The international donor community will need to support Turkey to meet these new goals.
730,000 Syrian out-of-school refugee children statistic taken from latest UNICEF reporting for July. They include refugee numbers from Iraq and Egypt which also host Syrian refugees.
2015 was the worst year for Syrian refugee children when some 900,000 were out of school, according to UNHCR.
GLOBALLY: According to UNHCR estimates, 3.5 million refugee children are out of school, missing an average of 200 school days every year. This means that collectively they missed almost 700 million days of school in the last 12 months. This goes up by around 1.9 million school days every day.
Only ten countries, all of them low and middle income, currently host more than 50 percent of the world's refugees. At last year's leader summit, just $216 million was pledged for refugee education across the world. It would cost an estimated $132 million a year to meet needs in Uganda alone – which houses 6 percent of the world's refugees and where 48.5 million days of school were missed by children. 
Two separate commitments were made at UNGA in 2016. The first, known as the Leaders' Summit on Refugees or the "Obama summit" pledged to get one million refugee children back into school. The second was made at the UN Summit on Refugees and Migrants. At the Summit 193 member states signed the New York Declaration for Refugees and Migrants, a global plan to address the needs of refugees and migrants around the world. This included a commitment to "ensure that all refugee and migrant children are receiving education within a few months of arrival."