Back to school after four years - Tamer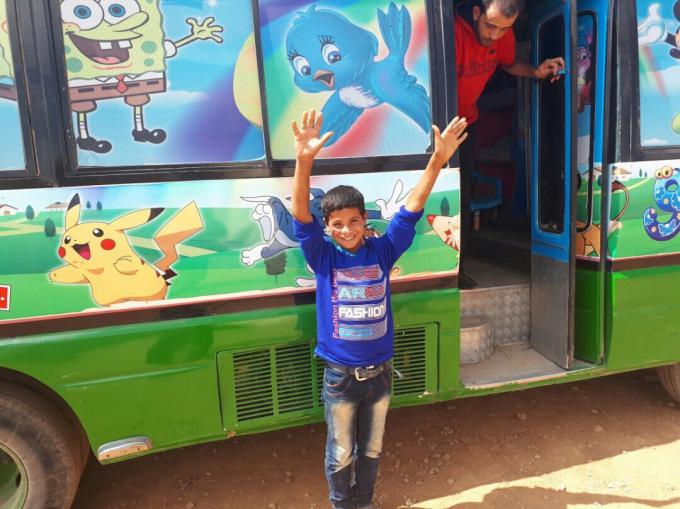 Tamer* standing outside the mobile bus which visits his camp providing recreational, educational and psychosocial activities once a week. PHOTO: Olive Branch organization
Due to the conflict in Syria, thirteen-year-old Tamer* missed out on four years of his education. Originally from Sweida countryside in western Syria, the family has been displaced multiple times over a period of three years, and in the last village they lived in, their house was destroyed in an attack. They now live in a camp for displaced people called Ataa Roumi Camp, in Dara'a, southern Syria. The terrifying experiences Tamer went through, along with being forced to move every couple of months, impacted him psychologically and this was clear when he came to participate in the activities provided by the mobile bus run by Olive Branch organization with support from Save the Children and funding from UNICEF.
"From a young age Tamer has been living through the circumstances of war. His home was destroyed and his family has had to flee several times. When he first joined the activities at the mobile bus he was visibly scared, he didn't want to play with his peers, he couldn't even speak. We encouraged him to participate in games with other children his age, like tug of war and sports, and gave him small toys, like a football to encourage him to be active. It took six months for him to get back to being himself. He's now an active student in both the mobile bus and the educational tent," says Hussein, a facilitator at the mobile bus.
The mobile bus visits six camps in the area, providing catch-up classes, recreational and psychosocial activities in each camp once a week to help children to overcome the difficult experiences they've been through and help them to heal psychologically. The education tent in the camp, also run by Olive Branch organization, provides the children with education, including classes in Arabic, Maths, English and Science, but the activities provided by the mobile bus are the only form of structured psychosocial support the children are receiving.
According to Tamer, "I'm happy to be back at school after four years of not being in school at all. I go to the school in the tent so I can learn how to read and write, and I go to the mobile bus activities every Wednesday when it visits our camp. We all wait for the mobile bus because we're all excited to go. My parents want me to study and go to school. The tent and the mobile bus are the only education available to us. All the children love the tent school and the mobile bus. Now that I'm back in school I will keep it up so that when I grow up I can become an engineer. One of my relatives is already an engineer and he rehabilitates the houses of displaced people. I also want to help people rebuild their houses. The people who have been displaced in Syria need to have homes to go back to."
Hussein, who teaches English on the mobile bus, says "Tamer has been attending our activities for a year and a half now. He also received a school bag as part of the Back to Learning Campaign and goes to the education tent in the camp. This is the only education available to children in the camp. The area is cut off from the outside world. There are no services here and everyone is displaced. We do our best to help children to heal and get them out of the circle of fear they find themselves trapped in because of the conflict. These children have been through a lot and they need to be enrolled in educational and recreational activities to get back to a sense of normality."
The mobile bus plays a huge role in the camps according to Hussein because of the activities provided and how important these are to the children. "We conduct an evaluation of the children before they participate and after they've been enrolled for a while to see how they have improved. We see great improvements in their reading, writing, spelling, calculating skills, grammar, punctuation and we see their handwriting changing from being scribbles to actually being legible," says Hussein.
Hussein continues, "We also use modern approaches in education which the students like. We have been trained on Education in Emergencies and we use INEE materials which have been provided by Save the Children and UNICEF. We hold regular meetings with the parents to check in on how their children are doing and we usually get positive feedback. Tamer's father has been happy about his son's progress and he makes sure that he attends the activities regularly."
The mobile bus, run by Olive Branch organization with support from Save the Children and funding from UNICEF, visits six camps in the area providing recreational, educational and psychosocial activities to each camp once a week. Children are also provided with stationery to be able to participate in the activities and continue activities in their free time if they wish. There is also an educational tent inside the camp which provides literacy, numeracy and science classes on a daily basis.