It's never too late to learn - Ahmad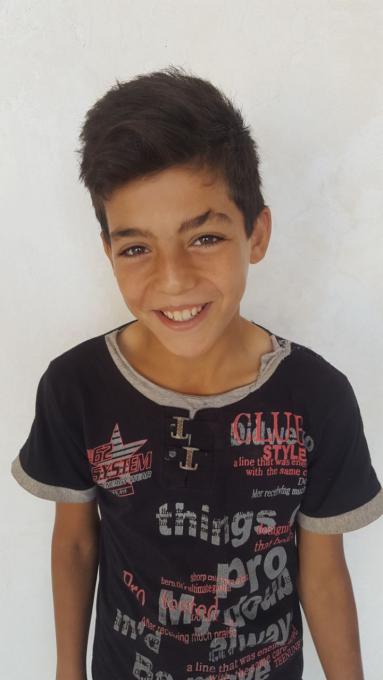 Photo credit: Olive Branch organization
Twelve-year-old Ahmad is still excited about the fact that he has learned how to read and write over the past year. The youngest of ten brothers and sisters, he never went to school until last year because his parents were afraid to let him out of their sight, especially after the public school in Yadudeh, their village in Dara'a, was hit by an airstrike in which a girl was killed and two boys lost their legs due to injuries.
Ahmad's father heard about the Alternative Learning Centre being run by Olive Branch organization in partnership with Save the Children and support from UNICEF from their Back to Learning Campaign, which ran in 2016. The campaign used innovative ways of raising the awareness of families about the importance of education, including through theatre and distribution of stationery as many families cannot afford school supplies and this stops them from sending their children to school. Ahmad enrolled at the centre in November 2016.
"I never went to school before because my parents were afraid to send me because of the security situation here and I am the youngest in my family so they were worried about losing me. I used to stay home all day doing nothing. And then when they decided to allow me to go, no school would accept me because I couldn't read and write. I saw a play that was part of the Back to School Campaign and all the children in the play went to school. I wanted to go to school like them. My dad was convinced and then encouraged me to go to the centre to study," said Ahmad.
Ahmad took a placement test to determine which grade he should be placed in at the centre but he didn't pass the test because he'd never had an education before. A special class was created at the centre for students who had never been to school or had dropped out and were at a similar academic level. According to Ahmad's English Teacher, Yousef, "The outreach we do for parents is essential for them to support their children in returning back to school and in their learning process. Ahmad's father has played a critical role in encouraging him to go to school and he practices reading with him by getting him to read all the shop signs in the street."
Ahmad says that Mahmood hasn't just learned how to read and write within the past year. His behavior has also really changed since he joined class at the centre. When he first joined he was very shy and would isolate himself from his peers. "He used to hesitate a lot and would be reticent in class. We encouraged him and made sure that he felt comfortable. Soon he started participating more actively. Now he comes to class half an hour before it actually starts every morning because he looks forward to it so much. The Al-Ghusn centre has become like his second home!" says Yousef.
Ahmad appreciates his father supporting him now in his education, "For a week I stopped going to the centre because it's 2 kilometres away from our house and it was a long walk. But then my father solved the problem by bringing me on his motorbike everyday. When I grow up I want to be an Arabic teacher. In the beginning I didn't want to go to school but now I do. I like it more every day. The cool thing about reading and writing is now I can read my friend's messages and send messages back to them on Whatsapp. I can talk more to my friends. I'm in the second grade now and I know I have a long way to go but one day I'll to go university and fulfill my dream of becoming an Arabic teacher."
There are approximately 300 children registered at Alternative Learning Centre located in Yadudeh village. The special class for school drop-outs has between 9 – 11 children attending daily. Stationery is distributed regularly at the centre for the children to be able to use it for their studies. The centre run by Olive Branch Organisation with support from Save the Children and funding from UNICEF, provides kindergarten classes in the morning and provides primary education (grades 1 – 6) including classes in Arabic, Science, Math and English.