When donors think outside the box
Violet is a Syrian organization, which started out in 2011 through a network of young volunteers who felt they had to do something for their communities which were suffering as a result of the conflict in Syria. They started out by providing essential aid to families affected by the conflict on a small scale, and have now grown into an organization working to provide humanitarian aid, implementing projects in six provinces in Syria, as the conflict rages on, now in its seventh year. 
     Israa* plays in the sunshine at a camp for displaced people in North West Syria. Violet has been working here to provide much needed items for people who were forced to flee their homes, in addition to educational activities for the children. PHOTO: Violet
Last year, the IKEA Foundation supported a project which offered grants to Save the Children's Syrian partner organizations, aiming to 'build up their capacity', to help them achieve their goals more efficiently. A unique aspect of this project was that the organizations could assess the areas where they saw their own weaknesses and gaps, and propose how best to use the funding provided accordingly. Save the Children had previously supported a number of partner organizations to develop 'capacity strengthening' plans, and the organizations could then apply for a grant according to the gaps identified in these plans. Violet successfully applied for a grant, which they used to build a fundraising platform on their website.   
For some time the organization had been thinking of setting up a section on their website for people to be able to give private donations, but they lacked the experience, funds and structure to be able to do it themselves. Setting up a mechanism through which people could give private donations was something they had been thinking about for a while, because a lot of people had shown interest in wanting to support Syrians in some way through Violet's projects, but they had no platform to donate directly to the organization.
Staff at Violet also knew that private donations would give them the freedom to be able to start projects which they saw a need for on the ground, but had been unable to do so because all their funding was coming from international NGOs and UN Agencies, which had their own priorities and plans for projects. According to Omar Shami, the Programs Coordinator based in Antakya, Turkey, "As Syrians we know and understand the needs in Syria best, as we are from there and are closest to the people on the ground. There were several projects we wanted to start but we knew we could only do that with unrestricted funding. We had wanted to set up a fundraising page for a while but we didn't have the technical expertise to do so. The capacity strengthening grant was flexible and we could choose what we wanted to use it for. We decided to use it to get a professional on board to advise on how to set up the webpage and create a successful advocacy campaign to encourage as many donations as possible."
Through the project, Violet was given a grant of 9,500 USD, which they used to contract a consultant for forty-five days to advise on setting up the web page and running a campaign to attract as many private donors as possible. "This was a creative project," Omar said, "It was the first time we had been able to do something like this. Most of the time INGOs give us trainings, not grants which give us the flexibility to build our own capacity as we see fit. One day INGOs and donors will stop providing funding for Syria because there are a lot of other conflicts going on in other parts of the world and their priorities will change. So we need to be able to be independent to continue meeting the needs of the Syrian people at a time when our futures are uncertain."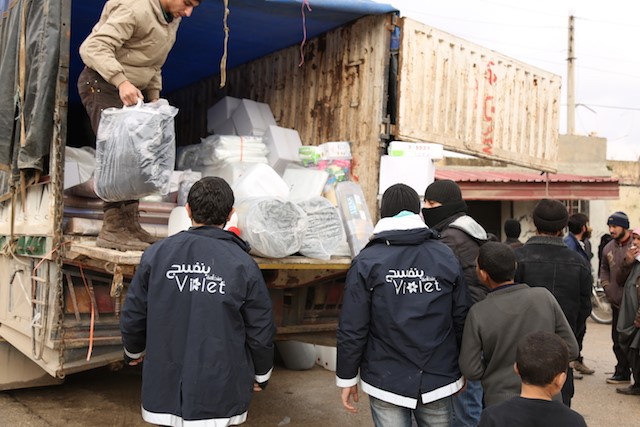 Violet was able to fundraise quickly through their newly established fundraising platform to raise money to deliver immediate aid to the people who were evacuated from eastern Aleppo city. They were able to rent houses to host the people who had been displaced and ensure that the houses were furnished with essential items like blankets and mattresses. PHOTO: Violet
The web page was set up in November 2016, which happened to coincide with the increased bombardment of besieged eastern Aleppo city. The shocking conditions people were living in, in addition to the high level of civilians killed and injured in Aleppo during the last quarter of the year, enraged people all over the world as they kept reading about it in the media but felt powerless to do anything about it. As part of the launch of Violet's new fundraising web page they decided to launch a campaign to engage people in the Middle East and raise awareness of the fact that they could do something to support the people of Aleppo and all displaced people in Syria by donating to support their projects. The organization got in touch with Abdullah Al Sharif, a well-known Egyptian human rights activist with a high number of followers on social media and asked him to put out a message through his channels about the needs on the ground, and what people could do to help.
"We were looking for personalities in the Arab world who could support our cause and would be willing to put a message out for Violet," Omar said, "We ourselves had not heard of Abdullah Al Sharif before but he was recommended to us by the consultant we were able to hire from this grant. The advocacy consultant opened our eyes up to a lot of possibilities we had never thought of before. Abdullah put the message out on 13 December 2016 and the results were amazing. We raised 150,000 USD through private donations via our new web page within a period of 10 days."
There are a number of projects that supporters can donate to via Violet's web page. According to Sari Jabbas, Violet's Advocacy Officer who is responsible for following up on the web page, "We have a number of projects on there which are essential but institutional donors are not interested in funding them. For example Al-Kheir bus, which provides free transportation for students in Idleb who cannot afford transport to go to and from school because the cost of fuel has gone up so much in the city. People can choose which project they want to support and we make sure we are accountable to them by publishing the budgets for each project, so they know where their money is going."
Violet has set up bank accounts in Turkey and in the U.S. to make it easy for people in the region and outside of the region to be able to donate. Going forward they plan to tap into potential supporters in the Gulf and in the West and would like to set up a bank account in the U.K. as well, to minimize on bank charges when people donate. According to Omar, "The reality is that people donate more when there is a catastrophe on the ground which is being highlighted in the media, but going forward we need to think of creative campaigns to encourage people to support, because the needs on the ground remain high, in spite of whether the media is highlighting them or not."
Violet's web page in English can be viewed here: http://violetsyria.org/en/projects/
Their Facebook page can be viewed here: https://www.facebook.com/org.violet/